Thousands of Happy Smart Home Customers

But don't just take our word for it...

We offer great products & great knowledge all backed up with great service - and our customers agree!

We're very proud of our independent Excellent Trustpilot rating, backed up by the many repeat customers we've been supporting for years.
World-Class, Industry-Leading Technical Support - Forever Free

You'll always have FREE access to our technical knowledgebase, application guides, YouTube tutorials & Customer Services, as well as all other online resources, help, white papers and articles.

If none of these answer your query you can also raise a ticket and get direct access to our team of smart home specialists for for assistance.

Access to technical specialists
100's of in-depth help resources
Video guides via YouTube channel
Blog articles with product reviews & test results
The Vesternet Promise

As Founder & CEO of Vesternet, I personally guarantee your 100% satisfaction on any purchase.

I'd never want you to be unhappy with something you buy from us, so here's my promise - you can return any unused products within 365 days. If you have problems with a new purchase, our support team will work with you to resolve. And if you still can't get it working then you can return it within 14 days for replacement or refund. For full information take a look at our full returns policy.

In addition, here's my personal email should you ever have any problems or feedback: dave.bell@vesternet.com

We're not just a shop, we're with you all the way on building your smart home.
Wiring Diagrams for Fibaro, Qubino, Aeotec, MCO and LightwaveRF
Posted on by Martyn Wendon
A common problem with Home Automation devices is working out how to connect them up when matching your existing wiring configuration.  While the product manuals will almost always offer some simple wiring diagrams these are often difficult to follow and may not adhere to UK wiring conventions.
Over the years at Vesternet we've created an extensive library of guides and tips and tricks articles to help our Customers and these covered some of the more popular products with common wiring configurations.
We're now taking that a stage further and we're pleased to announce the launch of our new "Wiring Diagrams" section:
This new section takes the approach of being driven from your existing wiring configuration - simply select the wiring diagram that matches yours and then follow the links for the particular product that you are using or planning to buy.
So for example, if you're dealing with a standard 2-wire lighting circuit, you'd match your existing wiring configuration to Figure 1:
Then, click the link to the product to be taken to a dedicated page for each product where you can see all the wiring diagrams.
On the subsequent page you'll then see how to wire the module to suit your existing wiring configuration.  You can even "mouse-over" the images to see before and after versions which makes it really easy to see the differences.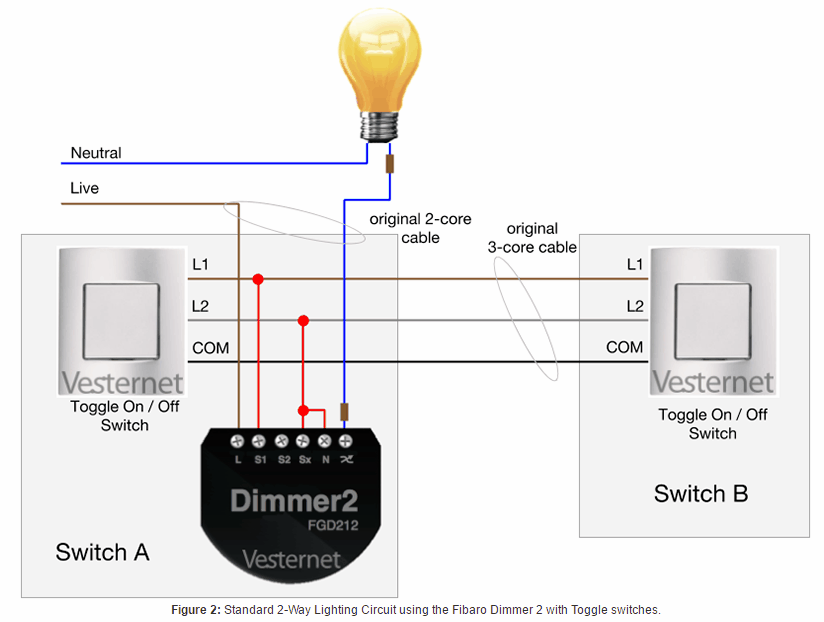 We've already added a whole host of wiring diagrams to cover some of the popular products and we'll be adding more over the coming months to complete the section. Obviously these things take a huge amount of time and effort to create, so please bear with us if a particular wiring diagram isn't currently available!
You can view the Wiring Diagrams section Here.
As always, any feedback you have will be greatly appreciated.
Bye for now!
Martyn
---
This post was posted in Z-Wave Market, Vesternet, LightwaveRF Market