Thousands of Happy Smart Home Customers

But don't just take our word for it...

We offer great products & great knowledge all backed up with great service - and our customers agree!

We're very proud of our independent Excellent Trustpilot rating, backed up by the many repeat customers we've been supporting for years.
World-Class, Industry-Leading Technical Support - Forever Free

You'll always have FREE access to our technical knowledgebase, application guides, YouTube tutorials & Customer Services, as well as all other online resources, help, white papers and articles.

If none of these answer your query you can also raise a ticket and get direct access to our team of smart home specialists for for assistance.

Access to technical specialists
100's of in-depth help resources
Video guides via YouTube channel
Blog articles with product reviews & test results
The Vesternet Promise

As Founder & CEO of Vesternet, I personally guarantee your 100% satisfaction on any purchase.

I'd never want you to be unhappy with something you buy from us, so here's my promise - you can return any unused products within 365 days. If you have problems with a new purchase, our support team will work with you to resolve. And if you still can't get it working then you can return it within 14 days for replacement or refund. For full information take a look at our full returns policy.

In addition, here's my personal email should you ever have any problems or feedback: dave.bell@vesternet.com

We're not just a shop, we're with you all the way on building your smart home.
2-Way Lighting Using LightwaveRF Dimmers
One of the things that confuses people the most is installing home automation into an existing 2-Way lighting system. This application note looks at how a LightwaveRF Dimmer switch and slave can be installed to control a 2-way lighting system.
Firstly, what do we mean by 2-way lighting?
This simply refers to a lighting system where one light is controlled by two light switches. Examples of this are where a room has two entrances (each needs a light switch) or for a hall light that can be controlled from the hall and the upstairs landing.
Standard 2-Way Wiring
Figure 1: A standard 2-Way Wiring System.
A 2-core cable (brown and blue) carries the Live and Switched Live to the wall switch and up to the light fitting. An extra 3-core cable (brown, black and grey) connects the two wall switches together; enabling each of them to independently turn the light On or Off.
Note: in some installations two 2-core cables may have been used to connect the switches together, if this is the case the individual cables will be brown and blue rather than brown, black, and grey.
LightwaveRF Dimmer Switch and Slave
Two install a LightwaveRF solution into a 2-way system you need to replace one switch with a LightwaveRF 1-gang dimmer (Master) and the second switch with a LightwaveRF Slave Dimmer as shown in Figure 2.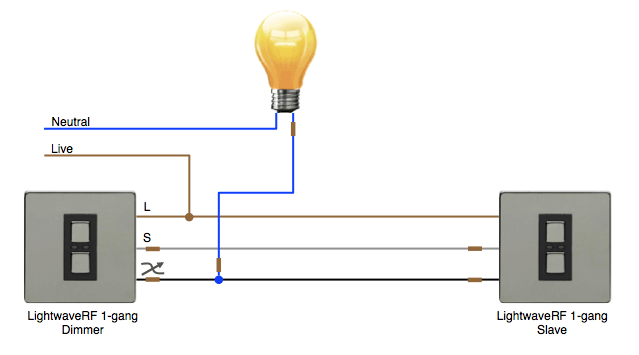 Figure 2: 2-Way Wiring On/Off Control with the LightwaveRF 1-gang Dimmer and Slave.
This circuit uses a low-voltage (12V) signal wire running between the 'S' terminals of the Dimmer (Master) and the Slave Dimmer - shown as a grey wire in Figure 2.
This configuration will give us 2-Way On/Off and dim/brightness control of the light.
3-Way and Multi-Way Wiring
A 3-way wiring system can be created by installing an additional LightwaveRF Slave Dimmer to the circuit. In fact up to six LightwaveRF Slave Dimmers can be 'daisy-chained' together to create a multi-way lighting system.
Figure 3: 3-Way and Multi-Way wiring with the LightwaveRF 1-gang Dimmer and Slaves.
Multi-Gang Slaves
One final note on using LightwaveRF Slaves. Often you will have 2-gang switches as part of the 2-way circuit. LightwaveRF have a small range of slaves to cover most installations:
Figure 4: LightwaveRF Multi-Gang Slaves.
Disclaimer:
Installing the LightwaveRF Dimmer involves working with 230V mains wiring. If you are not comfortable doing this you should consult a qualified electrician. This application note is provided as a guide, all work is are carried out at your own risk. Vesternet do not accept any responsibility or liability.
Related Information
---
Copyright Vesternet 2015
Updated: 04/02/2015