Thousands of Happy Smart Home Customers

But don't just take our word for it...

We offer great products & great knowledge all backed up with great service - and our customers agree!

We're very proud of our independent Excellent Trustpilot rating, backed up by the many repeat customers we've been supporting for years.
World-Class, Industry-Leading Technical Support - Forever Free

You'll always have FREE access to our technical knowledgebase, application guides, YouTube tutorials & Customer Services, as well as all other online resources, help, white papers and articles.

If none of these answer your query you can also raise a ticket and get direct access to our team of smart home specialists for for assistance.

Access to technical specialists
100's of in-depth help resources
Video guides via YouTube channel
Blog articles with product reviews & test results
The Vesternet Promise

As Founder & CEO of Vesternet, I personally guarantee your 100% satisfaction on any purchase.

I'd never want you to be unhappy with something you buy from us, so here's my promise - you can return any unused products within 365 days. If you have problems with a new purchase, our support team will work with you to resolve. And if you still can't get it working then you can return it within 14 days for replacement or refund. For full information take a look at our full returns policy.

In addition, here's my personal email should you ever have any problems or feedback: dave.bell@vesternet.com

We're not just a shop, we're with you all the way on building your smart home.
How can I add Z-Wave output to devices that don't have Z-Wave?
Question
How can I add Z-Wave output to devices that don't have Z-Wave?
Answer
It's possible to add Z-Wave output to most devices but that depends on the available outputs the device provides.
If the device has some dry contact outputs then you can use a Fibaro Universal Sensor or a Fibaro Door & Window Sensor.
If you are dealing with 240V then a Fibaro Relay or a Qubino Relay would be a better alternative.
Examples
Alarm Panel with Z-Wave
If you have an alarm panel with a dry-contact showing if the alarm is Armed or Disarmed and you want to get this input into your Z-Wave controller you can use a Fibaro Universal Sensor.
Some alarm panels have an output at 24VDC Ground and an input (Z in this example) where you can send a "pulse" to arm or disarm the alarm. You can do this by using a dry-contact Relay such as the Qubino Flush 1D Relay.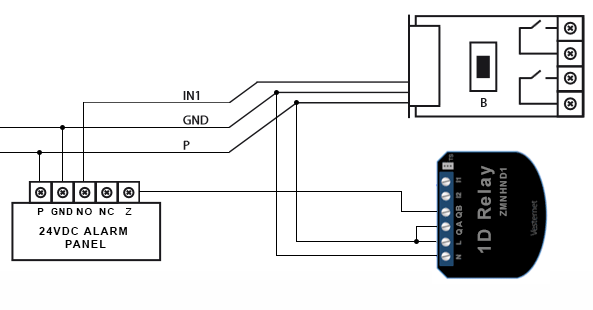 Mains PIR with Z-Wave
Sometimes you have a mains PIR and want to get that input into your Z-Wave controller, maybe using it as a "switch" to turn On/Off a light. For that you can wire the PIR to a Fibaro Single Switch and use it as a switch to control the light bulb.
Another option is to use a Fibaro Double Switch 2 instead which allows you have a Wall Switch controlling the load locally and get the PIR State into your Z-Wave controller – you can then use it to trigger a Scene which can control the load based on your requirements.
Z-Wave doorbell
Almost everyone has a doorbell at home and one nice little feature you can add to your Smart Home is to receive push notifications when someone presses the doorbell.
Unfortunately most makes of door bell / chime don't have a "dry contact" or "potential free output" but you can wire a small relay between the door bell and a Fibaro Door & Window Sensor.
We hope you found this article useful!
Related Information
Copyright Vesternet 2015
Updated: 17/11/2017