Thousands of Happy Smart Home Customers

But don't just take our word for it...

We offer great products & great knowledge all backed up with great service - and our customers agree!

We're very proud of our independent Excellent Trustpilot rating, backed up by the many repeat customers we've been supporting for years.
World-Class, Industry-Leading Technical Support - Forever Free

You'll always have FREE access to our technical knowledgebase, application guides, YouTube tutorials & Customer Services, as well as all other online resources, help, white papers and articles.

If none of these answer your query you can also raise a ticket and get direct access to our team of smart home specialists for for assistance.

Access to technical specialists
100's of in-depth help resources
Video guides via YouTube channel
Blog articles with product reviews & test results
The Vesternet Promise

As Founder & CEO of Vesternet, I personally guarantee your 100% satisfaction on any purchase.

I'd never want you to be unhappy with something you buy from us, so here's my promise - you can return any unused products within 365 days. If you have problems with a new purchase, our support team will work with you to resolve. And if you still can't get it working then you can return it within 14 days for replacement or refund. For full information take a look at our full returns policy.

In addition, here's my personal email should you ever have any problems or feedback: dave.bell@vesternet.com

We're not just a shop, we're with you all the way on building your smart home.
Athom Homey Smart Home Hub
HOMEY_UK
Z-Wave Fibaro Universal Dimmer 2 250W Compatible
(How?)
Imagine...
A home without remote controls. A home that listens to you. A home that does exactly what you want, and takes care of itself. Homey does that for you. By connecting all your devices in a smart way, controlling them becomes simple again - or even unnecessary!
Everything Connected and Simply Controlled

Homey combines all your wireless and smart devices at home into a single, easy-to-use and smart system. Control your entire home with the free App for Android and iPhone, and make all your devices work together in harmony, regardless of brand or technology.
Homey connects all these devices, so you can easily control them. Use Homey to turn your lights on, or to start your favorite music playing automatically when you come home.
Your Entire Home in Your Pocket




With the free Homey Smartphone App for iOS and Android you can always access your home - from anywhere in the world. Receive notifications on the go from sensors or doorbells, and control lights, locks, alarm systems and thermostats - wherever you are. It's like you're always home.

Ask Homey to pre-heat the thermostat on your way home. Pizza tonight? If you have a smart oven, Homey can even pre-heat it.
Your Home, Your Rules



Add some magic to your home with your own Flows. Using the easy to use Flow Editor, you can create 'If this then that'-style rules, that teach Homey what to do for you.
Make your lights dim when you watch TV. Play your favorite music when you disarm your alarm on getting home. Shut down your home when getting to bed. Make the hallway light turn on when your doorbell rings – let your creativity run free!
Endless Possibilities and Freedom
Homey speaks 8 different wireless technologies and talks with thousands of devices and services – and more are added on a daily basis through Homey's open platform. This gives you the freedom to always select the device you want – now, and in the future!
With Homey Apps, new devices are integrated with unparalleled speed. Bring your home to life with the endless possibilities of Homey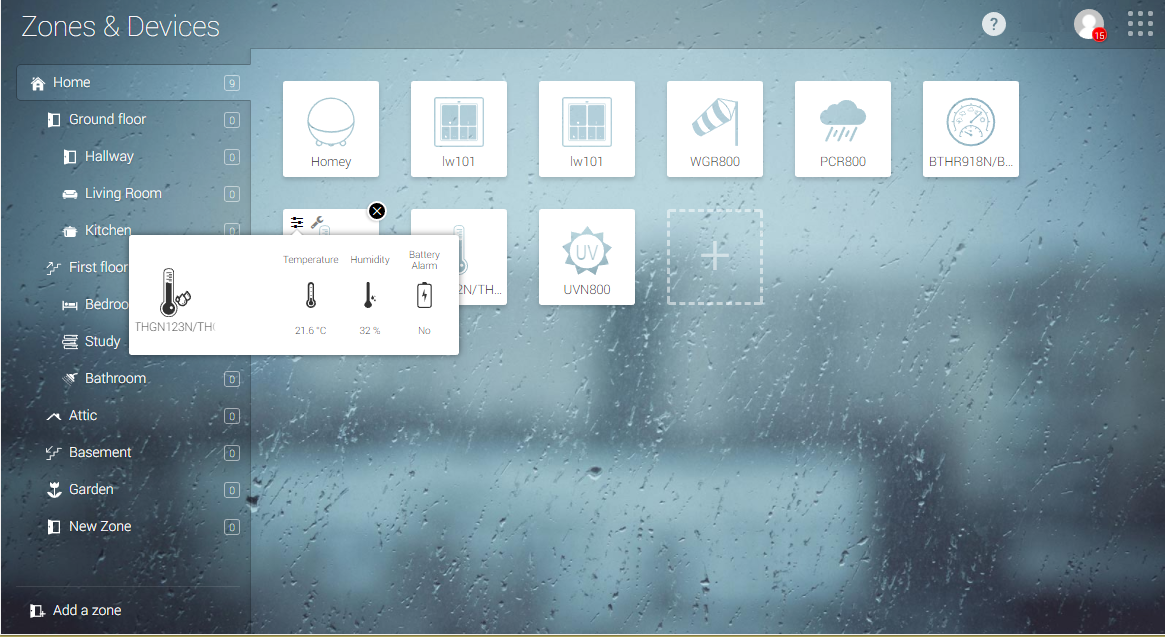 Technical Details
Wireless Connectivity: Wi-Fi ® 802.11b/g/n 2.4 GHz, Bluetooth ® 4.0 Low Energy 1, ZigBee ® 2.4 GHz 2, Z-Wave Plus™, 433 MHz, 868 MHz, Infrared Receiver, Infrared Transmitter (6x), NFC (ISO14443A)
USB On-The-Go: Supported
Accelerometer: Supported
Dimensions: ⌀ 12cm
Audio Output: Internal Speaker, 3.5mm Stereo Jack, Bluetooth A2DP
Power Supply: Input: 100-240V~ 50/60 Hz 0.5A, Output: 5V ⎓ 2.0A
Power Cable: USB A to Mini-USB B, 1.8m
Application Notes, Guides and Videos
Browse 3 questions
Browse 3 questions and 7 answers
It mentions Alexa support in the icons, but looking around I can't find Echo listed on their supported device pages - how is this supported? I also see nothing in the UK Amazon skill store...
Mixed info online stating this homey has to be in the same room as the device you are controlling to work correctly therefore needing more than 1 homey. Is this correct? Or can it just run like a normal hub in a central location within the home?
What happens when company goes out of business? Does hub still operates without cloud services?
Please wait...
video title
video content